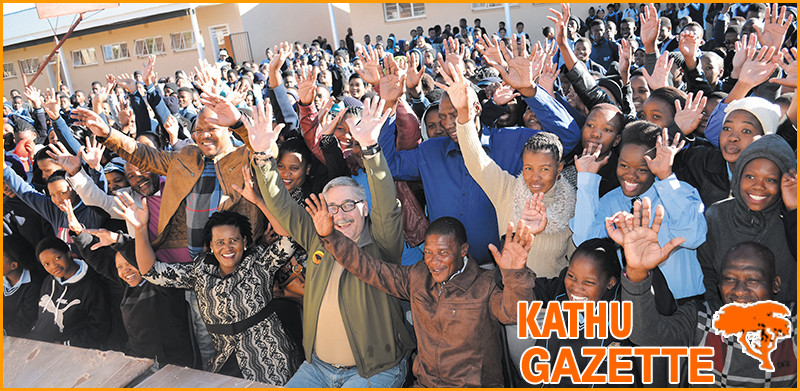 Dibotswa High School in Dithakong got a windfall, courtesy of the Kathu Solar Park. The donation came as a result of one of the former learner-cum-teachers at the school and now the Joe Morolong local municipality mayor honour-able Dineo Leutlwetse.
Previously, on Radio Kurara, the mayor had appealed to well wishers to assist schools to provide relevant resources to va-rious schools in the vast constituency of Joe Morolong. In her articulate speech in both English and Setswana, she had pleaded with the corporate community to provide a helping hand to schools. This request was sufficient to catch the ears of one of the Kathu Solar Park employees, Jesmien Wa-pad.
On May 18, 2018 the mayor and the Kathu Solar Park chief executive officer Mark Janick and Chief Motswarakgole of the area visited the school to hand over 600 chairs and 400 desks to the school.  
In her opening remarks, the mayor en-couraged learners to emulate the good work derived from educated people where she humbly gave a brief account how she ex-celled as a learner and later as a teacher for a couple of years at the school before. The narrative was in itself resplendent with a li-ning of an individual who grew up self-disciplined, hence the illustrious achieve-ment she has garnered to the level of a mayor - a high-ranking portfolio in the politi-cal hierarchy.
Before handing over the furniture, the do-
nor company's representative, Mr Janick spoke of the gigantic solar project the com-pany is pursuing as the biggest in the world and encouraged learners to take their studies seriously and grab the abundant technical opportunities derived by it. He said that the company will continue supporting the community of John Taolo Gaetsewe in the broader spectrum of development.
In his closing remarks, Chief Motswarak-gole expressed his utmost gratitude over the donation and advised school authorities and learners to take care of the resources availed at the school. The school principal was short of words and was visibly nodding his head in approval.